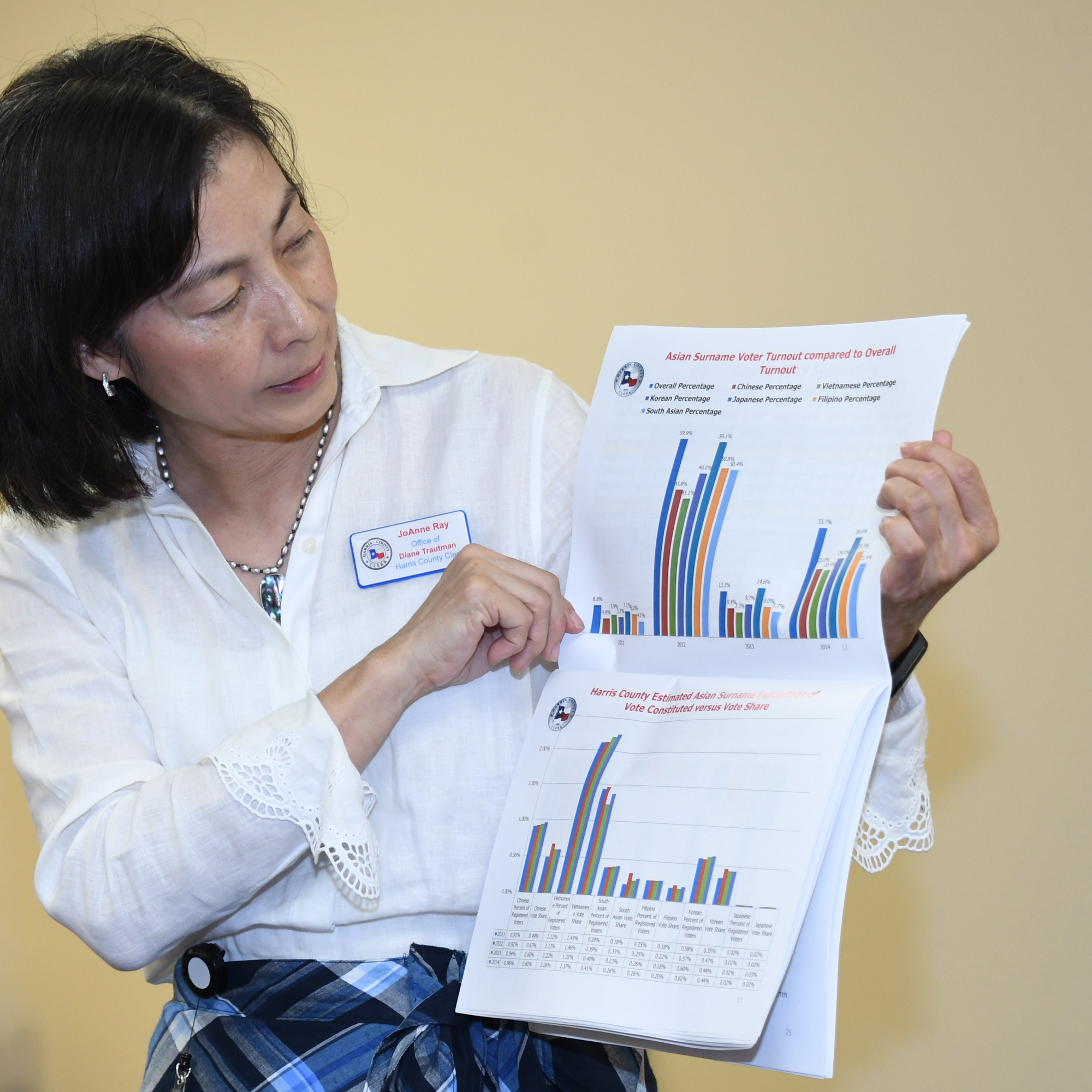 哈瑞斯縣選民服務處華裔代表芮久玟(本台檔案照片)。
---
哈瑞斯縣選務單位徵求兩名中、英文選務人員..意者可直接聯繫華裔代表芮久玟...
(徵人啟事)
Two available English/Chinese Clerk positions for the Call Center in Harris County Election Division. Interested parties may send resume and/or contact JoAnne Ray directly at Jray@cco.hctx.net to apply. Please see the job classification below.
Title: Call Center Clerk
Job Classification: Clerk I
Work Hours: Full-time temporary position
Department: Elections
Supervisor: Call Center Manager
Scope: To perform most of all task related to troubleshooting election questions for callers. Know and understand the general operations of an election. Provide support to administrators on various administrative projects. Ability to work accurately and quickly under deadlines. Ability to learn quickly and handle large volume of calls at times. Greet callers in a courteous manner with confidence
Duties and Responsibilities:
Answers election inquires via the phone.
Know and understand how to assist and direct caller to nearest polling locations.
Know how to deal with unsatisfied callers and pass callers onto others department, if required.
Understand and navigate the election web site
Understand and operate fax machine & copy machine.
Inventory, file and help prep election materials for elections.
Know how to multi-tasks between various jobs
Know and understand inquiry in election day voters in the Election Management System (VEMS)
Know how to input postal ballot application request in EMS (VEMAC)
Knowledge, Skills and Abilities:
Computer Literate
Willingness to assist the judges with the ePollbook.
Understand and operate the ePollbook.
Know how to test phone lines and assist at the receptionist desk.
Must be able to type at least 30 WPM
Have some knowledge of using Microsoft 0ffice (Word /Excel is a plus).
Must be able to speak good English and Chinese (Mandarin and/or Cantonese).
Hours and Duration:
40 hour work week (some overtime required)
Able to work Election Cycle 3-6 months
Physical Demands:
Able to lift and carry at least 20 lbs.
Required Education/Experience:
. High school diploma or Equivalent
.
Must be a Harris County Registered Voter
---