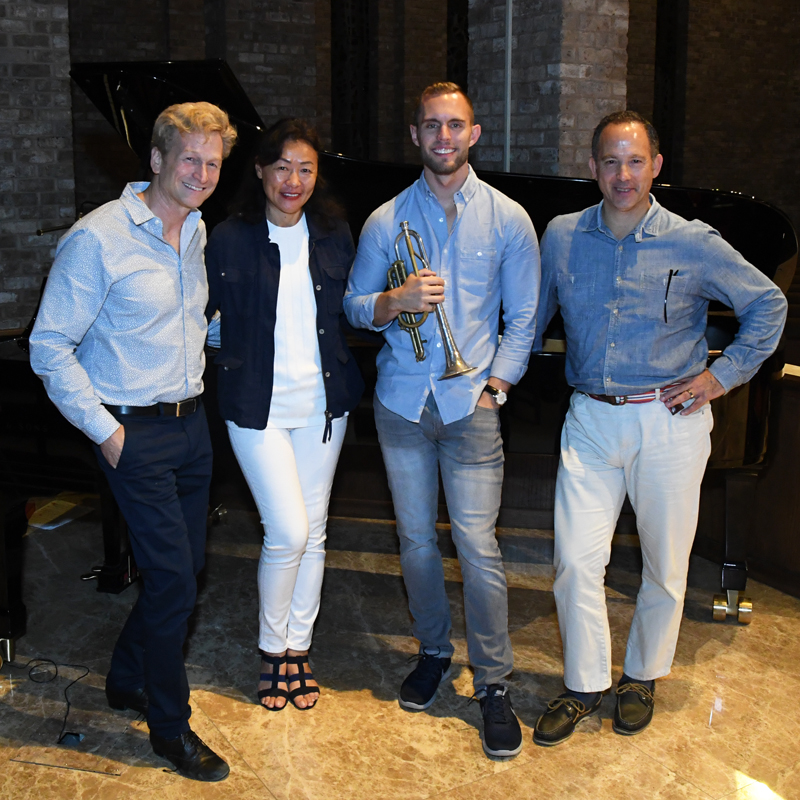 鋼琴物語製作人Maggie(左二)、主持人Jerry Pollio(右一)與Stephen Distad(左一)及 Justin Langham(右二)合影。
---
Deux Voix 音樂之旅..鋼琴物語專訪Stephen Distad & Justin Langham...
(紅媒頻台製作)
由小號手Justin Langham及風琴手Stephen Distad組成的Deux Voix音樂組合..演奏音樂以爵士樂..百老匯音樂..歌劇及流行樂曲為主..兩人同時也為教會演奏樂曲...
www.deuxvoixmusic.com
Deux Voix Founded and based in Houston, Texas, Deux Voix represents one of the most cherished and historical combinations of musical sounds, and has transformed it to appeal to a wide range of audiences.
Formed in 2014, Deux Voix (French for "two voices") has amassed a significant amount of success and a rapidly growing reputation across the country. In addition to the numerous performances in their home in southeast Texas, they have presented concerts nationwide in over 15 states. Notable locations include St. Patrick's Cathedral in NYC, The Basilica of Saints Peter and Paul in Maine, the Mayo Clinic Medical Center in Rochester, Minnesota, Washington Music Festival in Port Angeles, Washington, West Point Military Academy, and Myers Park United Methodist in Charlotte, North Carolina. They also presented a wildly successful headlining program for the L'Organo Series at the Piccolo Spoleto Festival in Charleston, South Carolina in May of 2015, where they performed the formal dedication concert for the new organ at The Citadel, and set a new record for the largest crowd for in the over thirty-year history of the series.
​
Stephen and Justin maintain an active concert schedule traveling around the country, and will be going on their first overseas tour in August of 2018 in Denmark, Sweden, and Norway, where they have been invited to perform in the prestigious International Organ Festival in Bergen, Norway. They also frequently perform for private events, house concerts, and restaurants in an "unplugged" setting with piano.
​
In their mission to expand the world of trumpet and organ, Stephen and Justin are constantly adapting works from other genres and instrumentations, such as jazz, Broadway, opera, and current popular music, in order to reach a wider audience. Deux Voix has also commissioned and performed new works written for trumpet and organ by composers such as Mark Hayes and Craig Courtney.
.
---